Thank you for visiting Six Gables Designs, your place for fast, fun quilt patterns, unique tools, and an ever-changing assortment of "needful things".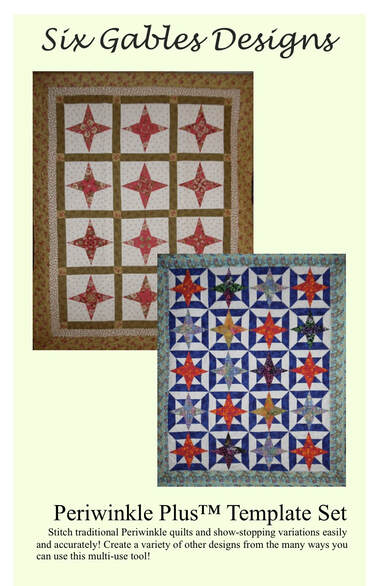 It's Here!
Periwinkle Plus™ Template Set You loved
the original Periwinkle Template Set. This is even better.
You'll be able to do so much more than make Periwinkle
quilts
...Dresden Plate, Fan, Multi-size Tumblers, and more!
To order, go to
sixgablesdesigns.com/books-rulers-templates-and-notions.h
tml
Six Gables Designs patterns contain step-by-step illustrated instructions. Many are multi-size patterns, while others include directions for variations. Appliqué patterns also include full-size traceable templates and tips for hand or machine appliqué.
---
As a quilter, I love sharing with my fellow quilters. I vend at shows throughout southern New England. I also do guild programs and teach classes. I would love to come to your guild for a trunk show, lecture and/or workshop. You can find me here:
2020 Calendar
Jan 14th, Ninigret Quilters, Westerly Senior Center, Westerly, RI. Lecture and Trunk Show, Other People's Material
Jan. 15th, Clamshell Quilt Guild, Temple Emanu-El, Waterford, CT. Vendor Night
January 18th, Ninigret Quilters, Westerly Senior Center, Westerly, RI. Workshop, Foolproof (Scrappy or Not) Hunter's Star
March 14th and 15th, Vending, Thimble Pleasures Quilt Show, Upton, MA
April 25th and 26th, Vending, Narragansett Bay Quilters' Association, North Kingtown, RI.
​May 2nd and 3rd, Vending, Pioneer Valley Quillt Guild, Springfield, MA
I love scraps, not only my own, but other people's. I wish I could say that I've learned over the years to not admit that to anyone, as I have been "gifted" with some of the most bizarre unwanted fabrics from other quilters' stashes! When life gives you crappy scrappies- make a quilt like Tacki the Decorating Diva (although you will have to invite me to your guild to see her in person)! I offer workshops for all levels of quilters; some scrappy, some not.
Guild program chairs and shops, for information about my programs and workshops, or ordering wholesale, please contact me:
Barbara Chojnacki
78 Granite St.
Westerly, RI 02891
bachojnacki@yahoo.com
NEW! Digital downloads are instantly
available for many of my patterns, including some that are no longer available in hard copy. Click this link. payhip.com/SixGablesDesigns
Enjoy the slideshow! These are quilts made from Six Gables Designs patterns or in one of my workshops: